Rhodes Weddings Weddings in Rhodes Lindos Weddings Kalithea Spa Weddings Transport Transfers with minivan minibus coaches & Bridal Cars

Rhodes Transfers With
Coaches, MiniBus, Mini Van, Rhodes Taxi Services, Rhodes Pre-booked taxis, Rhodes Wedding Cars, Rhodes Bridal Cars
Book all your Rhodes Transfers for a unique, unforgettable, wedding and holiday on Rhodes Island.
As ceremonies on Rhodes have time slots one of the most important parts of your wedding day is for you and your guests to arrive at the ceremony location on time and stress-free.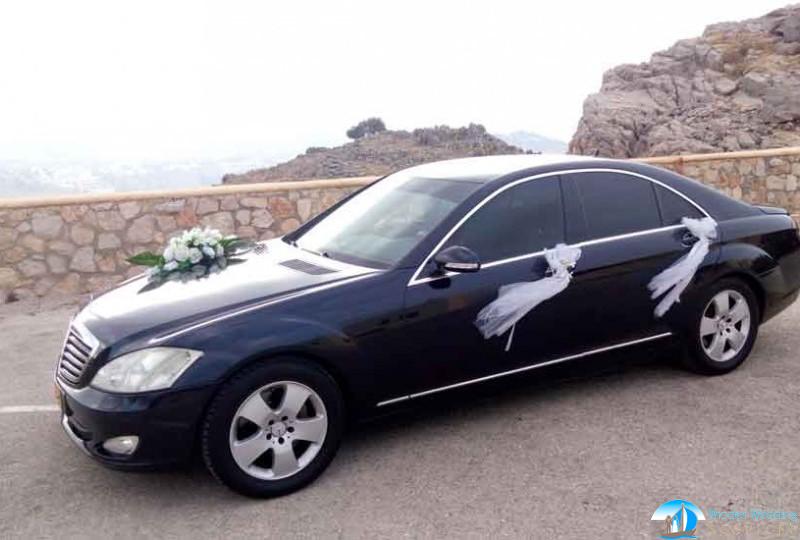 We have a wide range of transport options from Bridal Cars, coaches and minibusses all with experienced, professional, English speaking drivers.
All cars and coaches are cleaned prior to the wedding so there is NEVER a possibility that you will get in a car that has just picked up someone from the beach!
All cars are air-conditioned and can be decorated with ribbons or flowers, the flowers can then later be removed and used as decoration at the reception venue.
Rhodes Bridal and Wedding Cars
• Rhodes Airport Transfers... Pre-book your Arrival and Departure taxi with us and arrive ahead of the crowds.
• VIP Services... You have come all the way to Rhodes for your event so take time to see the island. Let us take you in our S class Mercedes to all the best sites on the island and finish your special occasion the perfect way with a lovely lunch in a beachfront restaurant.
• Wedding Taxi and prebook transfer taxi... Mercedes cars without the taxi sign. All cleaned internally and externally with professional and experienced drivers. One way and return trips available prices include waiting time at the ceremony venue.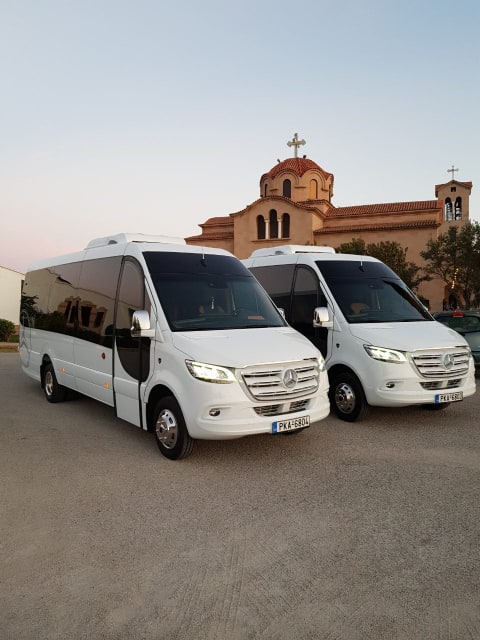 • Bridal Cars Mercedes cars with ribbons or flowers cleaned internally and externally with professional and experienced drivers. One way and return trips available prices include waiting time at the ceremony venue.
Rhodes Coaches Mini Bus & Minivan
• All coaches, minibusses & minivan are air-conditioned.
• Airport transport Transfers... We can arrange private transfer pickups to and from the airport for you, your family and the wedding party.
• Wedding Transfers... Coaches for any wedding party are essential. Keep your wedding guests altogether and on time and you don't have to worry about anyone who has gone missing.
• Hen & Stag Dos... Arranged your Hen or Stag Do? Let us pick you all up and show you the way to go home!!!!!
• Trips & Days out... We can arrange for your special event or celebration to take you into the mountains to sample wine and Souma and introduce you to some traditional local Greek cuisine.
Boats
Imagine arriving at the ceremony location by speed boat your entrance cannot get much grander than that, then after your wedding ceremony surprise your guests by leaving on a champagne cruise.
We can offer one-hour cruises as round trips from your ceremony location or drop you off directly at your reception venue (depending on venue) whatever you choose it will be the highlight of your wedding and something your guests will remember forever.
We can arrange various drinks such as champagne, wine, beer and soft drinks for children.
• Glass Bottom Boat... Enjoy a trip on the glass bottom boat from Lindos. The boat is often known as the party boat and plays music as you sail out to sea. The boat seats 35 people and can leave from St Pauls, Lindos main beach, kalathos, Pefkos, and Charaki. One way and return trips are available.

• Speed Boats... Why not treat the Groom to a speedboat trip and let him arrive at the ceremony location with his best man is style.
• Catamaran... A lovely boat for ceremonies held north of the island. Relax on board seated on one of the sofas and enjoy the scenery. Seats maximum 40 people and leaves from Rhodes Town, Faliraki, Kallithea and Kolymbia.
• Yacht.... book a celebration cruise on our luxury yacht, maximum 25 pax champagne, wine, fruit salad, and three staff to take care of you during your special trip!
• Hen & Stag Days... We can arrange relaxing day trips for your wedding group that include beach hopping and stopping off somewhere to eat or party cruises with lunch on board and games.
• VIP Day Trips... Hire a yacht or motorized boat for the day for your special occasion and be pampered by the crew and soak up the sun and scenery.
Please click on the Contact Us link to find more about our Rhodes wedding services.
Rhodes Wedding Bridal Cars and VIP Transport Services