Rhodes Wedding Reception Venues

Rhodes the largest of the Dodecanese Islands has a colossus choice of restaurants and taverns for you to choose from to host your wedding reception.
We have over the years, chosen carefully the finest venues, most professional and trustworthy suppliers to guarantee you a reception that will make you proud.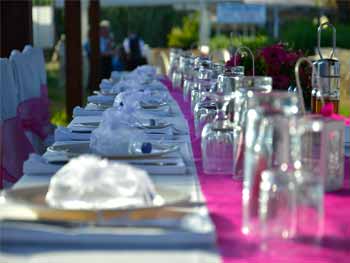 We have chosen wisely so we can offer you a range of reception venues that include beachside locations, traditional Greek Tavernas, and five-star hotels.
There is something for everyone.
Our motto is: If we would go there, then we will offer it to you! If it's not good enough for us then it's not good enough for you!
It is highly recommended that you book your reception venue at the time of booking your wedding.
If you are looking to book a champagne cruise check to see what reception venues allow you to arrive by boat from your ceremony location.
If you have been to Rhodes and have a favorite restaurant, of course, we will be happy to liaise with them on your behalf at no additional fee.
The majority of our reception venues allow music and have an area for a dance floor music however due to Greek law must be turned down by 11.30 and closed by midnight, there are a few venues which allow the party to go on into the early hours and we will be happy to guide you to making the right choice.
Please click on the Contact Us link to find more about our Rhodes wedding services.