Contact Information
If you would like any further information on our services please use the contact us form below or email us at:

inforhodesweddingservices@gmail.com
All of our enquiries are answered within 24 hours.
If you prefer to talk directly with one of our planners please call or send a text message to one of the following numbers and we will call you back.
Weddings in Rhodes : 0030 6934 559903

Greek Office Contact: 0030 22411 19580

Rhodes Wedding Services
Making your wedding wishes come true...
Rhodes Wedding Reception Venues

Rhodes the largest of the Dodecanese Islands has a colossus choice of restaurants and taverns for you to choose from to host your wedding reception.
We have over the years, chosen carefully the finest venues, most professional and trustworthy suppliers to guarantee you a reception that will make you proud.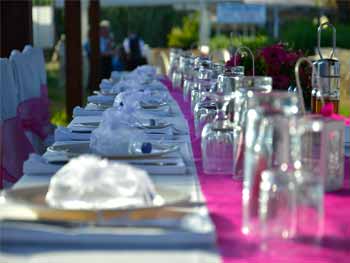 We have chosen wisely so we can offer you a range of reception venues that include beachside locations, traditional Greek Tavernas, and five-star hotels.
There is something for everyone.
Our motto is: If we would go there, then we will offer it to you! If it's not good enough for us then it's not good enough for you!
It is highly recommended that you book your reception venue at the time of booking your wedding.
If you are looking to book a champagne cruise check to see what reception venues allow you to arrive by boat from your ceremony location.
If you have been to Rhodes and have a favorite restaurant, of course, we will be happy to liaise with them on your behalf at no additional fee.
The majority of our reception venues allow music and have an area for a dance floor music however due to Greek law must be turned down by 11.30 and closed by midnight, there are a few venues which allow the party to go on into the early hours and we will be happy to guide you to making the right choice.
Please click on the Contact Us link to find more about our Rhodes wedding services.

Rhodes Wedding DJ Music & Entertainment
Rhodes wedding DJ
Weddings in Rhodes, We Provide special offers for DJ, Music, entertainment for your wedding here on Rhodes with our company Rhodes wedding services. We can offer you a wide range of music and entertainment to accompany you to the ceremony venue or to party the night away.
Whatever your taste or choice in music we have something to suit everyone.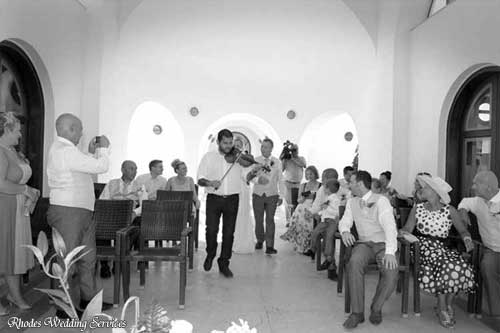 Church Music
• Greek Accordionist / Violinist... Be escorted to the chapel or ceremony venue by an accordionist or violinist playing traditional music.
You can book them individually or as a duo.
• Greek Accordionist / Violinist... Be escorted to your ceremony and reception venue.
• Wedding Singer... Acoustic Duo Guitarist and singer... With a list of over 50 songs to choose from all eras, the acoustic duo is a hit at every wedding.
They offer a one-hour session for the arrival of the bride and then songs after the ceremony. They can also arrange an hour at the reception if you prefer to have live music for your first dance.
Entertainment
• Disco... Professional DJ, Microphones for speeches, announcements, etc. (plus Karaoke if you wish) – 12 pm
• Disco & Professional Greek Dancers... A perfect way to get everyone up and start the party with a bit of fun.
• Greek Band... Looking for something a little more traditional why not try a Greek band and live singers.
*By Greek law music must be turned off by 12 pm; however there are a few venues that can allow longer, additional fees apply.
Please click on the Contact Us link to find more about our Rhodes wedding services
https://www.facebook.com/rhodeslindosweddingservices/
https://www.youtube.com/channel/UCBSGveWoaVTzzq64444Fsrg/videos
Rhodes Wedding Music & Entertainment

Rhodes Wedding Photographers Photography

Rhodes wedding photographers.
All our Rhodes wedding photographers are friendly and professionals with years of experience working in the wedding industry and all speak English.
One of the biggest decisions to make in the months leading up to your wedding day is what wedding photographer to use.

We have the largest team of photographers on the island working together with us to ensure that once you have returned home you will still have the photo album that fulfills all your wedding wishes.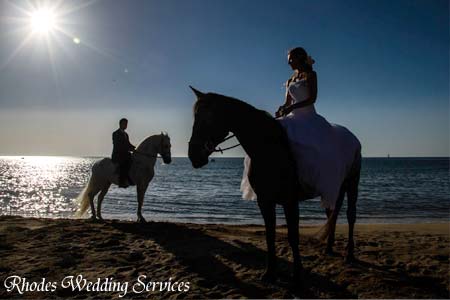 At Rhodes Wedding Services we understand that photography is a personal choice which is why we work with various photographers on the island so we know that we can offer all our couples the photography package and style of photography that they are looking for.
We have many options of packages available, starting from minimal packages for those on a budget, pre-wedding shoots and full-day packages including photo books and widescreen DVD'S.
For those couples wanting to have some fun and go a little extreme why not book the "Trash the Dress" photoshoot after your wedding day or have the photo booth at your reception.
Whatever you choose you will not be disappointed with your photographer and, let's be honest, it's not something you can do again so it has to be perfect the first time around.
All our photographers will give a pre-wedding consultation once you arrive in Rhodes.
Upon your initial inquiry, we will send you a list of photographers that we work with and samples of their work.
Please click on the Contact Us link to find more about our Rhodes wedding services.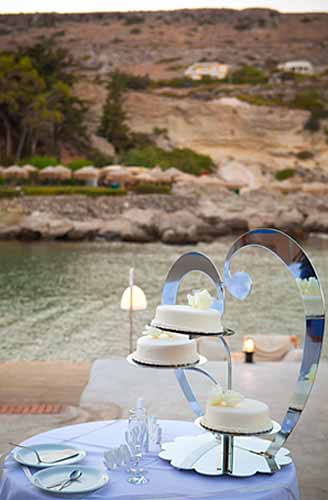 All of our cakes are freshly baked on the day of the wedding and delivered direct to your reception venue.
Cakes can be decorated with fresh or silk flowers and cupcakes with sugar petals.
Most couples use their wedding cake as a desert for after dinner.
Cup Cakes... A large top tier cup cake with small individual cupcakes underneath covered in butter cream icing.
Traditional Greek Sponge Cakes... Mouth-watering sponge cakes covered in cream and available in the flavours of chocolate, vanilla or strawberry.
The cakes come decorated with silk flowers in the colours of: pale pink, white, lemon and pale blue.
The cakes come as individual tiers and can be round, heart shaped or rectangle.
Each tier is one Kilo approximately serving 10 portions.
Traditional English Stacked Cakes... Stacked sponge cakes are available in various flavours such as vanilla or chocolate flavour and can be decorated with sugar paste flowers.
Birthday Cakes... If one of your guests has a birthday, why not surprise them with a novelty cake.
Candy Cart... Have fun at your reception and have a candy cart full off goodies, also a great way for entertaining the children.
Traditional Greek Sweets & Pastries... A lovely touch to your wedding is to hand out some traditional Greek sweets after the ceremony or Baklava as a desert at your reception. All sold by the kilo.
Please click on the contact Us link to find more about our Rhodes wedding services.
Wedding Cakes & Sweets Gallery

Rhodes wedding Decorations and table Arrangements
• Chair Covers... White Chair covers
• Organza Bow... available in all colours
• Table Runners... available in all colours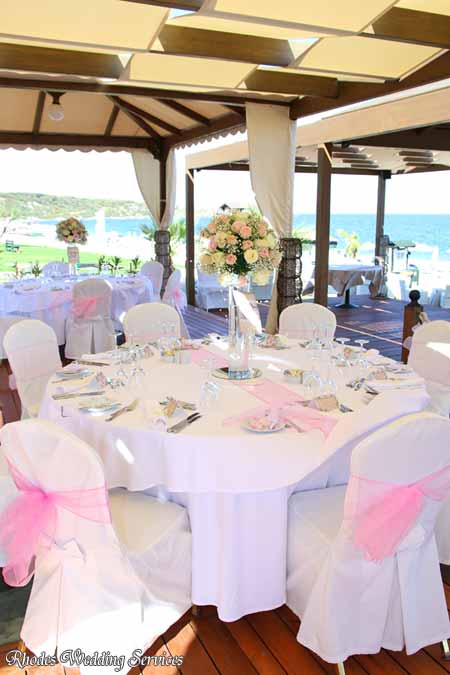 • Napkin Ribbon... all colours available
• Candles... candle in tea lighter holder, available in various colours: (note: glass is for hire only)
• Candles... in snapshot type glass available in all colours.
• Candles... tall free-standing on small round mirror all colours available
• Candle... in hurricane lamp with coloured crystals - crystal colours are pale pink, clear/white, turquoise, red/wine, brown, orange, lemon, (note: glass is for hire only)
• Coloured candle in hurricane lamp –candle colours are white, cream, pink, wine, blue, green, orange turquoise, red, lemon, brown, royal blue (note: glass is for hire only)
• Hurricane glass and candle with sand... All candle colours available (note: glass is for hire only)
• Lanterns... Various sizes and styles available include candle. Lantern colours available are cream/white, brown and black
• Lanterns... small square table lanterns available in white, black, pale pink, pale Greek blue, cerise pink with tea light candle
• Fish Bowls... with a single flower and 2 x tea lights
• Fish Bowls... filled with roses inside the bowl from
• Fish Bowl... as large floral arrangement from
• Small glass... vase filled with 3-4 flowers
Favours:
• Organza bags with almonds
• Organza bags with ouzo/wine/whisky etc
• Boxes with almonds
• Other favours are possible please ask for details
Helium Balloons:
• Bundles of 3 – various colours available: minimum order 4 bunches
• We can also arrange balloons in pools, heart shape hanging arrangements, exploding balloons and standing balloons.
Firework:
• We can arrange to be set off during your cake cutting or first dance.
Please click on the Contact Us link to find more about our Rhodes wedding services.
Rhodes Wedding Decorations and table Arrangements