Lindos Weddings Ceremony Venues St Pauls
Lindos Weddings at the ceremony venues St Pauls is the home to the most popular wedding ceremony venue on Rhodes island, many weddings are held at St Pauls every year.

There is no ceremony location more romantic to host your Lindos Wedding.
St Paul's Chapel in Lindos is probably the most popular wedding venue on the island.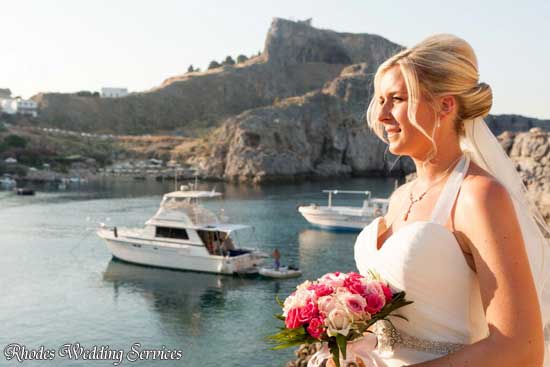 The traditional Greek whitewashed chapel sits next to the water's edge offering breathtaking views of Lindos village and the Acropolis of Lindos.
A great way to approach the chapel is to be escorted by a traditional violinist or accordion player.
As a ceremony venue it doesn't get much better than this, the chapel boasts amazing views of the coastline which will be in the background of all your photos.
To make your wedding in Lindos even more unique why not enjoy a champagne cruise and arrive at your Lindos wedding reception venue in style.

Additional Information:
• Ceremonies are held on weekdays only and the time allocated for each wedding is thirty minutes.
• Bi-gradable confetti may only be used and can only be thrown at the gates on the couple's departure from the chapel.
• CD music is not allowed at this venue.
• At this venue it is required that you go to the town hall a couple of days after your wedding day to sign the registrar.
• A member of our team will escort you.
• No additional fees are required at this venue.
Please click on the contact Us link to find more about our Rhodes wedding services.